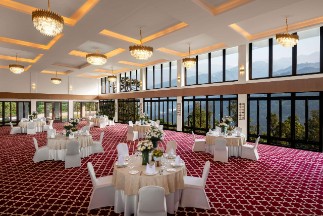 VIEW PHOTOS (1)
Totolla
~Vivanta Sikkim Pakyong
Max Capacity : 250
"The Meeting Room is a smart, thoughtfully designed, refined space that's ideal for corporate meets and intimate social gatherings. With ample natural light from large glass windows, it offers breathtaking views of the Valley. The banquet area, housed in a separate complex at a different level, stands independent of the hotel."
Equipped with state-of-the-art facilities and blessed with wonderful views of the surrounding greenery.
Plenty of natural light pours in from large windows. The Meeting Room is one of Sikkim's finest spaces for small get-togethers.
Dimension:
6.7 m. x 27.4 m.
|
Area:
267 m
|
Height:
7 m. (Actual height) | 5 m. (Clear height)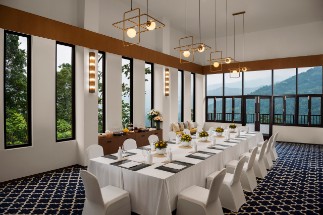 VIEW PHOTOS (1)
Sunakhri
~Vivanta Sikkim Pakyong
Max Capacity : 60
"Give your meeting the stature it deserves at this commanding location, offering 62 sq. m. of elegant combined space."
Sunakhri is the perfect setting for quiet and private business meetings, with ample natural light and picturesque views of the surrounding valley. It is ideal for up to 20 guests. The finest of technology support and an efficient staff, ensures that your business event goes off smoothly and seamlessly.
Dimension:
5.7 m. x 10.6 m.
|
Area:
62 sq.m.
|
Height:
15m. (Actual height) | 10 m. (Clear height)