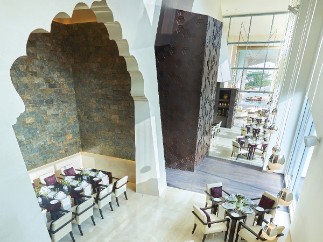 Indus Express Sampler
We believe that if there's anything that beats great storytelling, it's great food. At our North West Frontier cuisine fine dining restaurant, Indus Express, we've combined two of everyone's biggest passions for a unique experience. Diners can book the chef's table for a legendary meal that travels back in time, chugging through the Indus basin in undivided India – stopping for sumptuous courses at Kashmir, Pothovar (present-day Peshawar), Rawalpindi, Amritsar, Khyber and Lahore
Indus Express Sampler
A unique Chef's Table concept that has the undertones of a romantic train journey between Pre-independence India and Pakistan, through the five-river land of Punjab. We won't reveal any more here – sign up for the tour to find out!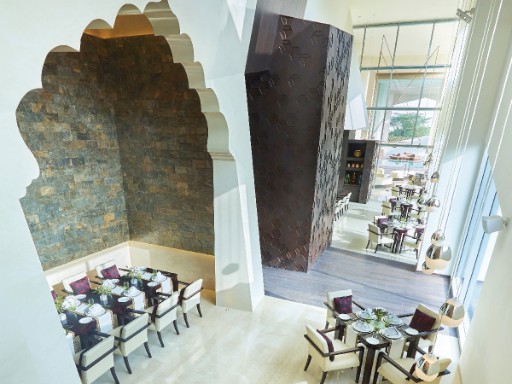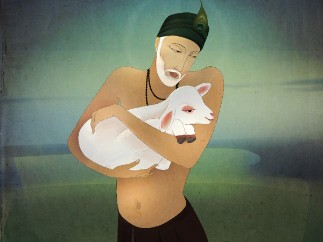 The Kabir Wall
A short walk from the hotel lobby en route to Indus Express restaurant takes guests on a rich and soulful journey that integrates urbane design, technology, art and philosophy on a 60 ft. wall. The Kabir Wall is an exceptional collaboration between students, artists and scholars of Sant Kabir, a 15th century Indian mystic and poet whose timeless couplets (dohas) are as - if not more - relevant to contemporary times as they were centuries ago.
The Kabir Wall
The lobby passage leading to the lounge displays the interpretive "K" project, where a modern and contemporary narrative of one of the foremost saints of India, his couplets and his music is rendered in a unique, audio-visual format. The designs of the installation, in line with the overall design philosophy of facets, geometry and blocks, are a seamless entity. Don't forget to add this to your list of things you must do when you visit Dwarka, New Delhi. Contributed to by serious students of the saint and his philosophy, the project is a creative extension of the address.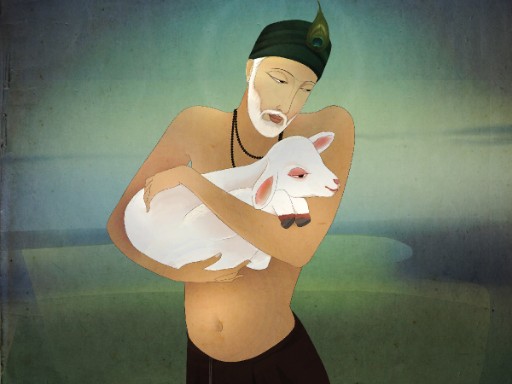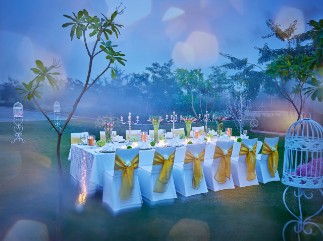 Dine Under The Stars
Delhi's overwhelming urban landscape can often get seem like the furthest thing from romance, but we delight in presenting our guests with the unexpected. Spring a surprise on your better half with an old-school rendezvous under the stars.
Dine Under The Stars
A dining experience by the poolside under the starlit sky is as romantic as it gets. Pamper your partner with a dream-like evening by the poolside, a lavish four course dinner and the perfect ambiance to set the mood right.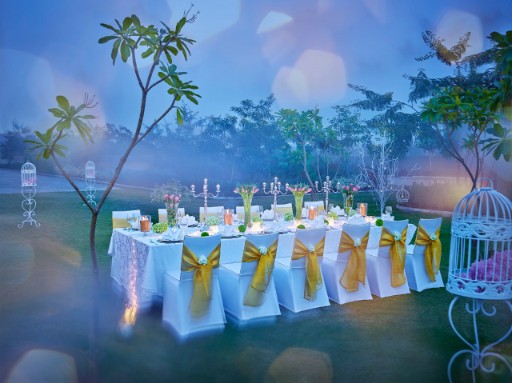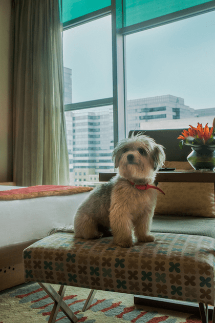 Pet Friendly Hotels
All your family members, and we mean pets too, are in for a treat at Vivanta.
Pet Friendly Hotels
Man's best friends are always welcome! All your family members and we mean pets too, are in for a treat at Vivanta. Believe us when we say leave no one behind on a family vacation. Vivanta New Delhi, Dwarka - a pet-friendly five-star hotel in southwest Delhi's vicinity, offers a welcoming haven for guests staying for longer durations and those looking for a weekend getaway with their furry friends.